The Tight End: A Quarterback's Best Friend
by Charlie Coiner
Tight Ends Coach and Special Teams Coordinator
University of Tennessee
As I sit here to write this article this morning the New England Patriots and New York Giants are preparing to square off in Indianapolis to decide this year's Super Bowl Winner. The New England Patriots have done a fantastic job over the years of adapting to the personnel on their football team. This year is no different. The same team that has used Defensive players and Offensive linemen at the Tight End position in past years has featured Rob Gronkowski and Aaron Hernandez on their way to this year's game of all games. Granted as you read this article you are more than likely not fortunate enough to have on your team the likes of Gronkowski, Hernandez or Brady for that matter. However, odds are you are not utilizing one of your best weapons to keep your offense on the field and extending drives that eventually end up in points.

It has become vogue these days for offensive coaches to talk about "explosives" as in explosive plays that result in huge chunks of yardage. While I certainly appreciate the value in explosive plays I have seen coordinators get themselves in trouble by focusing more on this than establishing any semblance of a run game or a short to intermediate pass game that will keep offensive drives alive and take some pressure off of their defense. Too often in the attempt to manufacture an explosive play (often times with nonexplosive players) offenses get behind the chains instead of putting the QB in manageable down and distances on second and third down. One of the best ways to avoid this mistake is to make the Tight End pass game a bigger part of your thinking as you game plan. In the following few paragraphs I will outline why and how the Tight End can become your Quarterback's best friend on the football field.
Allow your QB to find an early rhythm: You have worked all week on what you expect to see from the opposing defense. You hope that the opponent hasn't changed that much from what you have game planned off of but you're never sure. Your QB isn't either. Not to mention that the speed of the scout team is no where close to the speed the opponent will play at on game day. Allow your QB to complete a few simple short to intermediate passes to his TE early in the game to establish a rhythm while confirming that your opponent is actually lining up as you expected.
Tight Ends are not always covered even when they are covered: There is something about a big target and a big body that is hard to defend. If a Tight End is taught properly there are pass routes that are virtually impossible to defend because the defender has to play through the Tight End's Body to get to the ball. The Tight End and the Quarterback will both benefit if they realize the value in a physical 6-8 yard pass completion.
Use your Tight Ends to create multiple formations and mismatches: Boise State has made a living off of this in recent years. If you have a Tight End who can also line up in the backfield or he is talented enough to extend him out in some formations you have a serious weapon at your disposal. Even if your Tight End can't do these things a Tight End who trades, shifts and motions to change the strength and responsibilities of the defense can create major matchup problems in the pass game.
Tight Ends are great options for young and/or immobile QB's: A lot of teams have the advantage of playing with an athletic QB who can get himself out of trouble with his feet if everyone is covered. Other teams have a seasoned veteran QB who is experienced at going through his reads to find the second or third option in the progression. If you don't have these advantages then you must find other ways for your QB to excel. If your QB is immobile there is a good chance you are eventually going to see some type of 2 man coverage. When this happens your inside receivers/Tight Ends must win. Often times the Tight end is matched up on a Line Backer and if taught properly he can get open by using great technique despite having limited speed. If your QB is young then the advantages are obvious. The Tight End throws are shorter, easier to read and often times wide open as defenses focus on other areas.
Dropback pass is not the only way to get the ball to the Tight End: Tight Ends are very involved in every facet of the offense. They are normally responsible for the majority of the shifts, motions and formation game planning, as well as run blocking, pass protection and route running. Due to this the Tight Ends are great targets when it comes time to game plan for other types of passes other than drop back. Playaction Passes, Waggles/Boots/Nakeds and Sprint passes are all effective ways to create easy throws for your QB using the Tight End.
The Tight End can bail a QB out in tough situations: Every coach and QB has been there. You are playing a defense who is going to try to expose your QB by doing one of several things: A) Play you in 2 Man all day because your QB can't run very well and they plan to take away his favorite outside receivers. B) Overload the box with at least one extra defender and man up on your outside receivers to challenge your QB to make plays all day while allowing no run game. C) Bringing pressure on almost every down trying expose your protection and challenge your QB to make a quick and accurate throw. It's at times like these that the QB needs a security blanket. A Tight End who will run disciplined routes and catch the ball either as an answer to 2 man or as a viable option when all others are not available is worth his weight in gold. A well coached Tight End will provide that catch that buys your team an extra set of downs and keeps your offense on the field.
Below, I have included several plays that have proven to be successful in one way or another over my career as a Tight End coach. Hopefully, they will be of some benefit to you. More importantly, I hope that as you game plan in the future you will give serious consideration to the Tight End passing game and the advantages it brings for your Quarterback and your offense!
EDITOR'S NOTE: The play illustrations that follow are from the FirstDown Playbook, a new "app" for the iPad or iPhone created by 1st Down Technologies, LLC. For more details, and to download a free version of the app with 50 plays, visit www.firstdownapp.com. A version with 2,600 dropback pass plays is available for $19.99. Both versions of the FirstDown Playbook are also available in Apple's iTunes App Store.
High Low to the Tight End with the Z Receiver – This play is a great way to high low a Cover 2 Corner on the Tight End Side. If the Corner covers the Tight End the Z should be open. If the Corner sinks to cover the Z then the Tight End should be open. The F receiver is a natural #3 in the read in the face of the QB if both the Y and the Z are covered.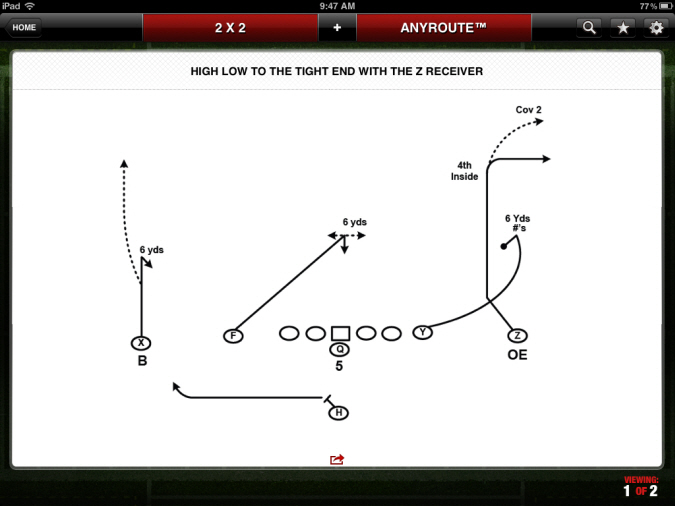 Y Stick High Percentage Pass for the QB and TE – An age old answer to get the ball to your TE. Vs Cover 3 the QB can work strong F to Y to H. The QB could also just choose to throw to the X if the weak Corner is playing off. Vs Cover 2 the Tight End will work off of the Middle LB as the Strong LB expands with the F Receiver. The Tight End must play off of the leverage of the Linebacker and make a "big body" catch.